Tuesday January 14th, 2014
By: CyrIng
[ Nightly Build ]
Version 0.16 : new, an "All-in-One" window is available when starting with argument '-D 1′
MSR reading thread has been optimized.
One TSC is assigned per logical Core.
Added Processor features into System Information.
Attempt to display the temperature Thresholds #1 & #2


Version 0.15 : Two new Widgets are available, while the Core Widget is enhanced with a Wallboard.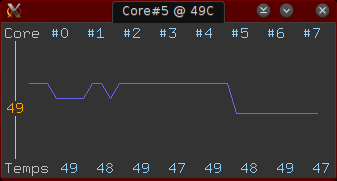 The System Info Widget now gathers details about Processor, RAM and BIOS.
The rest of the new features is displayed in the menu.


Release 0.12 : Use the MSR performance counters to provide a better computation accuracy of the Cores frequency multiplier.


Release 0.11 : New pages added to display the specifications of the Processor, RAM, BIOS.
Btw, Help is available from [F1] key.
Release 0.10 : MSR optimisation ; double buffering


Release 0.08 adds the Core DTS temperature.


A README file is available in the FTS